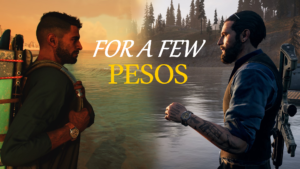 This will be a short crossover novel between FarCry 5 and FarCry 6.
It is advised to have played FarCry 5 and FarCry 6 or to read their synopsis before reading my story, otherwise you may not understand everything or you may miss things.
Most of the characters, places and the basic plot belongs to Ubisoft. However, this is my personal scenario, which is not related to the official content and in no way reflects the game's creators statements.
Warning : this story may deal with delicate issues (violence, unsuitable language for young people, drugs, sexual content, etc.). Please don't read if you are sensitive to this !
Synopsis
John Seed is the youngest of three brothers leading a cult in Montana. But before that, he was a lawyer. Could a simple business trip have made him an jerk, or was he already one before ?
Chapters list