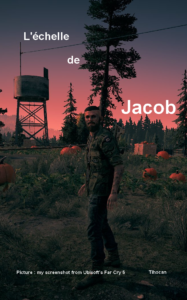 In 2021, I entered the annual NaNoWriMo challenge for the first time. What is it ? It's about writing every day for the whole month of November to total a minimum of 50,000 words by the end of the month (the size of a small novel).
You can read here what I wrote in November 2021. I have not yet finished the corrections nor the end of the story. It's kind of gone all over the place. It was hard to find the time and inspiration to write at least 1'667 words every day !
I hope you'll enjoy my essay anyway. I might take back this story for the NaNoWriMo 2022, it would be nice if I could correct, proofread and finalize it.
This was a real challenge, so I hope you'll indulge me and I thank you in advance for your kindness. I welcome constructive criticism, of course. Sorry for the English mistakes, I translate everything from French as I go along.
=> Add me as a buddy on NaNoWriMo (you must be registered and logged in)
It is advised to have played FarCry 5 or to read its synopsis before reading my story, otherwise you may not understand everything or you may miss things. Most of the characters, places and the basic plot belongs to Ubisoft. However, this is my personal scenario, which is not related to the official content and in no way reflects the game's creators statements. Warning : this story deals with delicate issues (violence, unsuitable language for young people, drugs, sexual content, etc.). Please don't read if you are sensitive to this !
Synopsis
Jacob Seed is one of the three brothers ruling Hope County and leading the Eden's Gate sect. The idea of this novel was to delve into his past and find out what led him to be this man.
Chapters list